OMO ALAUSA FOUNDATION ORGANIZED A LEADERSHIP SUMMIT WITH THE THEME " LEADERSHIP FOR COMMUNITY IMPACT" AT PEARLWORT HOTEL AND SUITES IKEJA ON THE 3RD OF NOVEMBER 2021.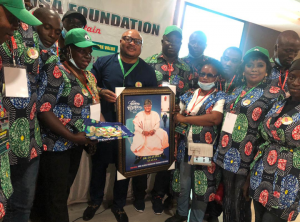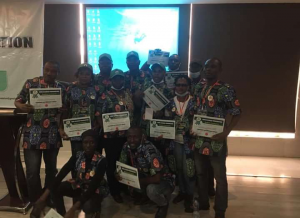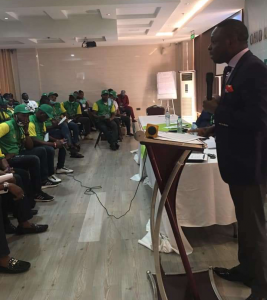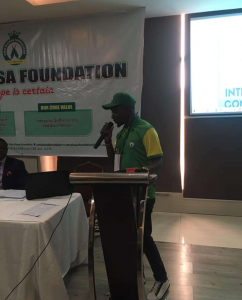 THE PURPOSE FOR THE SUMMIT IS TO BUILD A PURPOSEFUL LEADER AMONGST US ALL SO AS TO HAVE A RESOURCEFUL AND PRODUCTIVE SOCIETY.
THIS IS ONE OF THE MAJOR CRAVINGS OF THE FOUNDER AND CEO OF THE FOUNDATION IN PERSON OF DR. OLAYINKA ALAUSA.
SPEAKERS FROM DIFFERENT SPHERES OF LIFE IN NIGERIA AND THE UNITED STATES WERE INVITED.
THE ERUDITE SPEAKERS PROFESSIONALLY DEALT WITH THE VARIOUS TOPIC GIVEN.
THE CEO OF THE FOUNDATION WAS HIGHLY GRATEFUL TO THE SPEAKERS DESPITE THEIR TIGHT SCHEDULES , HE ALSO APPRECIATED THE PARTICIPANTS FOR TAPPING INTO THE OPPORTUNITY BEING GIVEN.
HE ADVISED ALL PARTICIPANTS TO MAKE SURE THEY START UTILIZING WHAT THEY WERE BEING THOUGHT RIGHT THERE IN THE HALL AND MAKE SURE THEY SPREAD IT TO THIER VARIOUS COMMUNITIES, BY SO DOING IT WILL CIRCULATE ROUND THE STATE THEN THE NATION. HE WENT AHEAD SAYING THE PARTICIPANTS SHOULDN'T MAKE THEIR TIME SPENT TODAY A WASTEFUL ONE BUT A FRUITFUL ONE.
GIFTS FROM VARIOUS DIVISION WAS PRESENTED TO THE CEO OF THE FOUNDATION IN COMMEMORATION OF HIS BELATED BIRTHDAY THEREAFTER CERTIFICATE OF PARTICIPATION WAS ISSUED TO ALL PARTICIPANTS. .
A PROMISE WAS MADE TO MAKE THIS TYPE OF PROGRAM AN ANNUAL PROGRAM.
OYELARA SAHEED ADEKUNLE
DIRECTOR MEDIA AND PUBLICITY
OMO ALAUSA FOUNDATION.